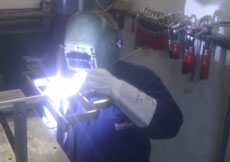 At Weiss Machines, solid craftsmanship and ingenuity are the core of our business philosophy. In our workshop, we have the facilities needed to design products that can be utilized to produce screen prints year after year, with incredibly low maintenance costs. We take great pride in the quality of our machines.
We have been operating in the European screen printing industry since 1985. During this period, we have supplied the industry with the highest quality machines; machines that will last for years! In fact, we have many clients who use Weiss machines that were crafted more than 20 years ago! Our machinery is designed and built to last.
Today, we manufacture two different series of machines for the global screen printing industry. Weiss manufactures screen printing carousels for manual screen printing productions and powder applicators for automated transfer printing production.
Weiss has been building screen printing carousels since 1985 and powder applicators since 1998. Both machine series have emerged as a result of our passion for making simple and efficient machines that will increase your profits.
Read more about the core of our quality products here: Screen printing carousels / Powder Applicators