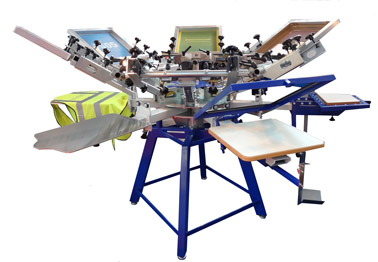 Over the years, Weiss Machines has provided hundreds of screen printing carousels to the European market. These carousels are popular due to their simplicity, security, along with their modular and over-engineered design. That means that you, as a consumer, will have a functional production system that requires only minimal maintenance.
Today, we produce three series of manual machines and one semi-automatic series.
Manuel:
→UNI series
→SMALL series
→MEDIUM series
Semi-automatic:
→ERGO series
All of our SMALL, MEDIUM, and ERGO screen printing carousels feature a modular construction. You can buy a machine with example 4 print arms and 4 print beds and at a later time, you can upgrade it to 6 print arms and 6 print beds. This makes our machines unique and incredibly flexible, so your machinery will grow as your company grows!
With only a few exceptions, all machines in our four different series are available with either side-screen clamps or back-screen clamps. The side-screen clamp fixes the silk screen frame to the outer sides, while the back-screen clamp fixes the frame on the back edge. The side-screen clamp is incredibly popular because it is easy to use and it increases the stability of the silk screen frame. The back-screen clamp does not increase the stability of the frame, but instead, it increases the rate at which the frame is fixed and it increases flexibility when working with different size frames.
We produce various kinds of palettes for our screen printing carousel series. If you need a spot dryer to dry the ink between the various screens, we manufacture five different sizes of our aluminum palettes which are designed for this specific purpose. If you don't need to dry the color, we have five different sizes of  fiberboard pallets as a more affordable alternative to aluminum palettes. We also produce a variety of hold-down systems to handle jackets, caps and umbrellas.
Last but not least, it is important to emphasize that Weiss machines are designed and manufactured to provide stable and reliable production for many years to come. We know how difficult it is when production is interrupted due to poor equipment. It's also frustrating when the quality of the final print does not meet customer expectations. In fact, this can be fatal for many companies. Therefore, our products are overengineered to ensure that you have a production system you can depend on for many years to come.